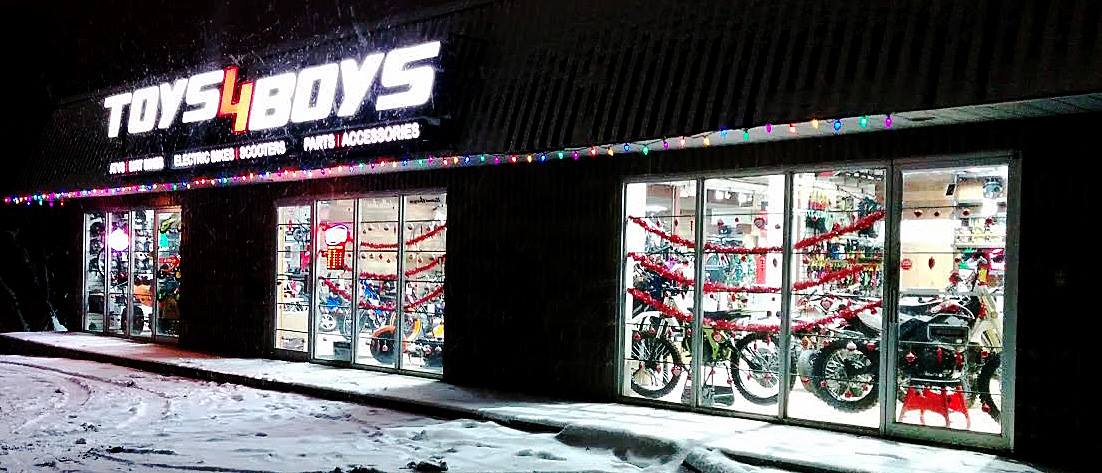 History
Toys 4 Boys Motorsports first opened its doors in 2005, offering small range of products that included 2-Stroke Pocket Bikes. The Pocket Bikes were an instant hit with Calgarians and T4B became well-known for having them, as well as a wide range of motorized vehicles and parts.
In August 2015, T4B was revitalized under new ownership, and underwent renovations and an introduction of new electric motorized vehicles and toys; in addition to our more familiar entry level powersport products (such as quads, motocross, snowmobiles and our infamous motorized bicycle kits).
Today
At T4B, you will find products that you will not normally find anywhere. T4B is extremely unique and possibly the only store in Canada which offers a range of powersports and electric products under one roof. We are a hybrid store. T4B essentially blends both together and offers our customers the best of both worlds at affordable prices. Under the new ownership, we've been able to introduce several world-renowned e-bike brands such as Hi Bike, BH Easy Motion, Vorpal and our T4B house brand. We are also one of the largest North American distributors for Greaser, and one of the few places in the world where you can come and try one out.
Why Shop With Us
At T4B, customer service is our top priority, and we take great pride in being able to provide the best expertise on our entire catalogue. Our staff is as knowledgeable as we are friendly, and we want to ensure that your T4B experience is always a successful and happy one.